AMTD Group highlighted during 2020 Hong Kong FinTech Week Airstar Bank's core businesses, and its complementary and distinctive position to the existing financial industry in the midst of digital transformation. This panel was moderated by Ms. Helene Li, General Manager of FinTech Association of Hong Kong and CEO & Co-Founder of GoImpact. Ms. Li spoke highly of the efforts and achievements of Airstar Bank, being one of the first virtual banks, in finTech, customer experience, and business innovation.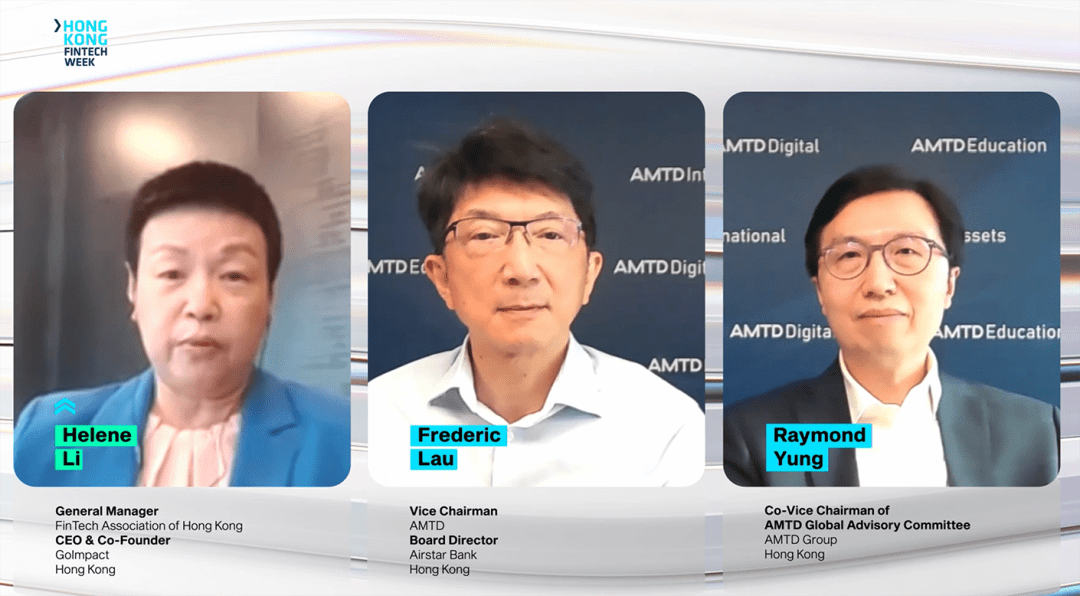 Helene Li, General Manager, FinTech Association of Hong Kong / CEO & co-Founder, GoImpact,with Dr. Frederic Lau from Airstar and Mr. Raymond Yung from AMTD
Dr. Frederic Lau, Vice Chairman of AMTD Group, and Board Director as well as founding CEO of Airstar Bank, said Airstar Bank aims to render innovative, financial inclusion and green finance, and to promote Hong Kong as a smart city through delivering fintech to the general public.
Besides, Mr. Raymond Yung, co-Vice Chairman of AMTD Global Advisory Committee, AMTD Group, pointed out that virtual banks and conventional banks can actually complement each other, bringing in new opportunities for existing financial industry alongside the digital transformational journey. These virtual banks or digital banks are more agile, more adaptive and more efficient to adapt ever changing customer behavior to create unique and enjoyable user experience.
Airstar Bank is a jointly established entity by Xiaomi Corporation, a global IoT leader, and AMTD group, Asia's leading comprehensive financial services conglomerate. Xiaomi and AMTD will contribute their resources and experiences to create a unique virtual banking business to provide tailor-made, cross-border, innovative, comprehensive financial services and offerings.