GFI and AMTD signed a Strategic Collaboration Agreement to provide CFtP candidates and CFtP qualification holders with opportunities for mentorship and internship in FinTech firms across the world over a virtual ceremony held this morning
AMTD Foundation will setup an AMTD-GFI SpiderNet Scholarship to provide students from SUSS and SUFE to complete the CFtP qualification, with internship in the AMTD SpiderNet ecosystem of FinTech firms
Global FinTech Institute ("GFI") and AMTD Group, together with AMTD Digital and AMTD Charity Foundation (collectively known as "AMTD") signed a Strategic Collaboration and Long-Term Partnership Agreement today, which aims at supporting and anchoring the Chartered FinTech Professional ("CFtP") qualification with industry mentorships, thought leadership and cross-border learning journeys. The strategic partnership will maintain Singapore and Shanghai's leadership amongst the most energetic, innovative and sustainable FinTech Capitals in the world. Mr. Patrick Tay, Assistant Secretary-General of the National Trades Union Congress ("NTUC") served as the guest of honor to witness the virtual signing ceremony.
AMTD Charity Foundation as founded by Mr. Calvin Choi, Chairman of AMTD Group, will also donate and contribute an AMTD-GFI SpiderNet Scholarship to provide 20 students from SUSS and SUFE to complete the CFtP qualification. In addition, the students will get internship opportunities in leading FinTech firms in Singapore and across the region that are part of the AMTD SpiderNet , a multi-dimensional and cross-sector ecosystem that is continuously expanding, to connect and promote collaboration between its partners, including shareholders, clients, government bodies, and industry associations. Dr. Timothy W. Tong, Chief Executive Officer of AMTD Charity Foundation and retired President of the Hong Kong Polytechnic University, will also join the academic council of GFI.
The CFtP qualification, a collaborative project by GFI, Singapore University of Social Science (SUSS) and the Shanghai Institute of the International Finance Center (SIIFC) of Shanghai University of Finance and Economics (SUFE), aims to promote the global FinTech sector and raise the level of professionalism within the industry. In addition, the CFtP qualification provides a pathway for professionals from other industries to embark on a career in FinTech.
Professor David Lee, Co-Founder and Chairman of GFI, said, "As the global FinTech ecosystem continues to grow and mature, GFI strives to collaborate with strong ecosystem players to empower the global FinTech community, starting with China and Singapore. We are glad that AMTD shares the same vision that the Chartered FinTech Professional (or CFtP) qualification will help promote professionalism in the global FinTech industry, and looking forward to working with AMTD."
Calvin Choi, AMTD's Chairman and CEO, adds, "AMTD is pleased to join GFI as its founding industry partner and contribute to the CFtP. AMTD has been committed to the ecosystem building of the FinTech sector, connecting ASEAN FinTechs with the Global community. I'm confident, with our joint efforts and long-term partnership, GFI and CFtP will significantly boost the standards and empower connectivity among FinTech professionals. I am also glad to contribute to the establishment of scholarships, supporting the needed students to pursue this professional designation and growing the digital talent pools in Singapore and rest of the ASEAN region."
AMTD recently established the @-Wise Cybersecurity Centre of Excellence, together with the Singapore FinTech Association, University of Waterloo as well as workforce and mobility platform iQ4. It is also supported by Ernst & Young as the Knowledge partner and other supporting organisations, including the Hong Kong government-owned Cyberport, AMTD Charity Foundation and Infinity Power. The @-Wise Cybersecurity Centre of Excellence aims to develop cybersecurity talent, build a cybersecurity ecosystem and raise awareness of the importance of cybersecurity among FinTech and financial institutions.
Mr. Patrick Tay, Assistant Secretary-General of the National Trades Union Congress ("NTUC") and guest of honour to the virtual signing ceremony, mentioned, "With GFI and this collaboration and partnership with AMTD, it will bring about new opportunities for students as well as those looking to enter into the space. The accreditation will also help further professionalize and strengthen the Fintech fraternity and enhance the employment and employability of practitioners."
Professor Tsui Kai Chong, Provost of SUSS said, "AMTD's generosity in money, network and, most importantly, guidance are very helpful to our students' development in the fast- changing FinTech area. We are grateful to AMTD."
Professor Zhao Xiaoju, Dean of SIIFC, said, "With the rapid development of FinTech field, there is substantial demand for FinTech talents in the market. Students hope that they can learn the theoretical FinTech knowledge and gain the ability to apply FinTech during their undergraduate and graduate studies, so that they can obtain more and better opportunities in the FinTech job market after their graduation. AMTD Group which signed the MOU with GFI today is not only one of the global leading FinTech companies, but also a socially responsible and visionary organization that actively participates in supporting and contributing to the development of global FinTech talents. Hereby, on behalf of SIIFC, I would like to express my sincere gratitude to AMTD for its strong support for the cultivation of FinTech talents! I also hope that more financial institutions and FinTech professional institutions will give more attention and support to the CFtP project!"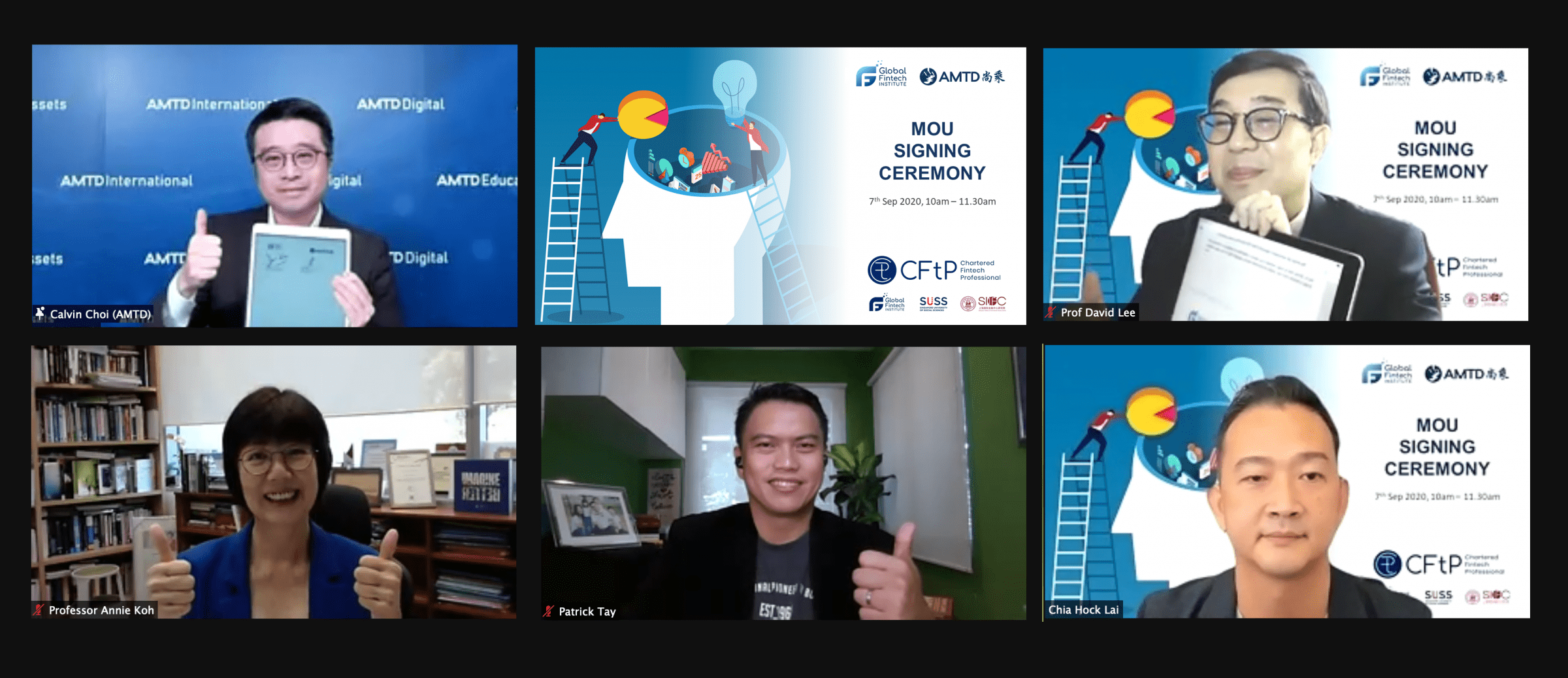 About AMTD Group
AMTD Group is a leading comprehensive financial services focused conglomerate, with businesses in investment banking, asset management, digital financial solutions; and non-financial services areas including strategic investments, real estate and education.
AMTD International (NYSE: HKIB; SGX: HKB), a subsidiary of AMTD Group, comprises the largest independent investment bank in Asia and one of Asia's largest independent asset management companies, and has been a leading investor in FinTech and new economy sector. AMTD International successfully listed on the New York Stock Exchange in 2019, representing the first Hong Kong headquartered financial institution listed on NYSE. On April 8, 2020, AMTD International completed its successful listing on SGX-ST, which marks a series of historical milestones, including:
• The first company ever to be dual listed on NYSE and SGX;
• The first company featuring dual-class shares (DCS) listed on SGX; and
• The first company to conduct a digital listing ceremony in Singapore.
AMTD Digital, the digital solutions arm of AMTD Group headquartered in Singapore, covering digital financial services, digital media marketing and data intelligence, digital connectors and ecosystem, and digital investments. AMTD Digital aims to build a one-stop, comprehensive, cross-market, and innovative digital financial services platform.
About the Global FinTech Institute
The Global FinTech Institute, headquartered in Singapore, is a global professional credentialing body dedicated to creating greater collaboration, advocacy, ethics and knowledge for all FinTech professionals. It aims to empower members and the community to leverage FinTech for growth and transformation, through engaging the community in the latest trends, issues and development in FinTech; facilitating collaborations with and knowledge-sharing among regional and international FinTech organisations; promoting best practices and co-developing standards and governance guidelines for the fair use of FinTech and providing education and training to build industry capabilities and groom talents in FinTech.
For more information on GFI, please visit www.globalfintechinstitute.org.
About the Singapore University of Social Sciences
SUSS is a university with a rich heritage in providing lifelong, learner-centric and industry relevant education. Its mission is to champion lifelong education to develop future thinkers and leaders to their fullest potential through the 3H's education philosophy – 'Head' for professional competency with applied knowledge, 'Heart' for social awareness of the needs of the society, and 'Habit' for passion towards lifelong learning.
SUSS offers more than 70 undergraduate and graduate programmes, available in full- and part time study modes which are flexible, modular and multi-faceted in learning experience to cater to both fresh school leavers and adult learners. It also launched a broad range of continuing education and training modular courses for the professional skills and knowledge upgrading of the workforce.
For more information on SUSS, please visit www.suss.edu.sg.
About the Shanghai Institute of International Finance Center, Shanghai University of Finance and Economics
The Shanghai Institute of International Finance Center (SIIFC) is a university-based think tank under the guidance and support of Shanghai Municipal Education Commission and administrated by Shanghai University of Finance and Economics (SUFE).
The School of Finance of SUFE (SoF) was founded in 1998 as the first finance school in China. It is formerly the Banking Department of National Southeast University established in 1921, which is one of the earliest institutions in China that offer financial higher education. The founders of SoF, Yang Yinpu and Zhu Sihuang, were also the founders of modern Chinese finance discipline.
The SoF has 5 departments, including Banking, Insurance, International Finance, Securities and Futures, and Corporate Finance, as well as nearly 10 research institutions, such as Quantitative Financial Research Center and FinTech Research Center. These departments and research institutions cover all the financial research fields. According to ShanghaiRanking's Global Ranking of Academic Subjects, SoF ranks No. 1 in Mainland China. In terms of the number of top publications, SoF ranks among the top three in Mainland China. SUFE is also among the first batch of universities in China that launched programmes with FinTech major (FinTech undergraduate programme in 2018 and graduate program in 2019), integrating finance, statistics, big data science, and computer science disciplines. These programs, facilitated by the key laboratory platform in finance, aim to equip new financial talents with financial and economic theory, data processing capabilities, and intelligent technology knowledge through systematic FinTech courses.
For more information on SIIFC and SoF, please visit http://siifc.shufe.edu.cn/; http://sof.sufe.edu.cn/.