Recently, 25 elites and leaders from different finance and innovative technology sectors have successfully completed a five-days comprehensive learning and development program – the "AXSI Digital Finance Leadership Programme" at the Singapore Management University (SMU) campus. This was the second cohort of the programme following an overwhelmingly positive feedback from the first batch of graduates that came through during the Singapore FinTech Festival in December 2020, and the two batches together have groomed 50 FinTech talents to date. The programme was well regarded and praised not only in Singapore but across Asia for its well designed programme structure and content. The focus of the programme has been on future skills i.e. platform thinking, partnership building, business skills in developing an ecosystem, cloud, data, AI and cyber essentials for a FinTech leader together with design skills around UI and UX.
This programme was first announced in January 2020 at the World Economic Forum (WEF) in Davos with Mr. S Iswaran, Singapore's Minister for Communications and Information and the Minister-in-charge of Trade Relations, and Mr. Calvin Choi, Chairman of AMTD Group and Founder of AMTD Charity Foundation, witnessing the MOU signing by Professor Timothy Tong, CEO of AMTD Charity Foundation; Mr Shouzi Chew, Partner, Senior Vice President, President of International, of Xiaomi Corporation; Professor Tan Eng Chye, NUS President, on behalf of ISS; and Professor Annie Koh, SMU Vice President of Business Development, to provide in-depth training on digital business transformation from the financial perspective for Singapore and the entire ASEAN region, and train the new generation of digital finance leaders.

【left picture】 Calvin Choi, Chairman of AMTD Group, Founder of AMTD Charity Foundation addressing the participants at the openings of Dec'20 AXSI Programmes at SMU
【right picture】 1st batch of AXSI cohorts listening to Calvin Choi's speech
This programme is designed with the intent of strengthening Singapore's leading position as a FinTech and innovation hub by deepening the knowledge and ability of senior finance and regulatory leaders, as well as FinTech entrepreneurs in Asia in the areas of digital business transformation and digital finance, enabling them to harness digital financial solutions and services to drive business excellence.
The AXSI Programme cohorts, including both the 1st batch and 2nd batch of 50 senior executives and entrepreneurs, benefited from going through 5 days of programme with intensive discussions, sharings by thought-leaders, reflections of start-up founders, fireside chats and networking events with fellow industry partners.

【left picture】 Chief Fintech Officer of MAS – Sopnendu Mohanty addressing to the cohorts at the openings of Dec'20 and Feb'21 AXSI Programmes at SMU
【right picture】 From Right to Left, Mun Kew Leong (CEO at NUS-ISS), Sopnendu Mohanty (Chief Fintech Officer at MAS), Professor Annie Koh (Vice President of Business Development at SMU) and Osman Faiz (Chief Information & Operating Officer at AMTD Digital).
Chief Fintech Officer of the Monetary Authority of Singapore (MAS) – Sopnendu Mohanty attended the openings of both the 1st and 2nd run of AXSI Programmes in December 2020 and February 2021. In the recent opening on 21st February, Sopnendu addressed the audience by sharing his views on various industry focused topics around data regulations and facilitations by regulators, new technology risk guidelines and the likely impacts to incumbent banks, digital banks and FinTechs as well as trends of Asian regulators coming up with new rules to guide FinTechs and banks

【left picture】 Senior executives, FinTech entrepreneurs came together to discuss the most relevant topics in the digital finance industry during the 1st run of the AXSI programme
【right picture】 2nd cohort attendees sharing their experience and challenges in the digital transformation and technology space
The cohort was also addressed by the Executive Director of SMU, Eddie Tritton, and NUS-ISS CEO, Chan Meng Khoong with special thanks to Calvin Choi, for his charity donation and omnidirectional strategic support to this programme.
At the closing day on 26th February, Calvin Choi dialled in remotely from Hong Kong and connected with the cohort to share his view on the current status and future direction of FinTech development in Asia and globally. He also discussed the strategic importance of the AMTD SpiderNet in AMTD's development, and his vision for AMTD to build a cross regional, cross market, comprehensive one-stop digital services and solutions platform.

Mr. Calvin Choi said, "AMTD Digital is the digital solutions arm of AMTD Group, headquartered in Singapore, leveraging the AMTD SpiderNet as its core to connect ASEAN with the Greater Bay Area and other regions, empower entrepreneurs as well as support talent cultivation and up-skilling. We partnered with The Hong Kong Polytechnic University three years ago to create the first FinTech school in Hong Kong and offer doctoral degrees in FinTech. We also partnered with University of Waterloo to establish the Global Talent Postdoctoral Fellowship to support research and development of innovative and creative technologies in the Greater Bay Area."

【left picture】 Dr. Flocy (AXSI Programme Director), Osman Faiz (AMTD Digital) and Dr. Leong Mun Kew (NUS-ISS) presented the AXSI certificate to the programme participant at the 1st run of the AXSI program
【right picture】 Osman Faiz (AMTD Digital), PK Raman (Chief Risk Officer of AMTD Digital), Vincent Ling (Head of Transactional Banking & Payment Solutions) Paula Liu (Head of Digital Innovation, Client Experience, Zack Yang (Co-Founder & COO, FOMO Pay) and Pierre Habib (Head of Ecosystem & Growth) with Dr. Flocy (AXSI Programme Director) at the 2nd AXSI Programme
Osman Faiz of AMTD Digital also shared that, "Education is a key strategic pillar to AMTD's IDEAS strategy; AXSI Programme again demonstrated AMTD's commitment towards Singapore to strengthen the digital talent leadership skills and understanding of the leading technologies to boost the competitiveness of Singapore's FinTech ecosystem."
At the same time, AMTD Digital's leadership team, along with founders of AMTD SpiderNet member companies such as Funding Societies, CapBridge, PolicyPal, FOMO Pay, have all hosted different sessions during the programme, sharing their insight and experience, allowing the participants to better understand and gain first hand industry knowledge and trends.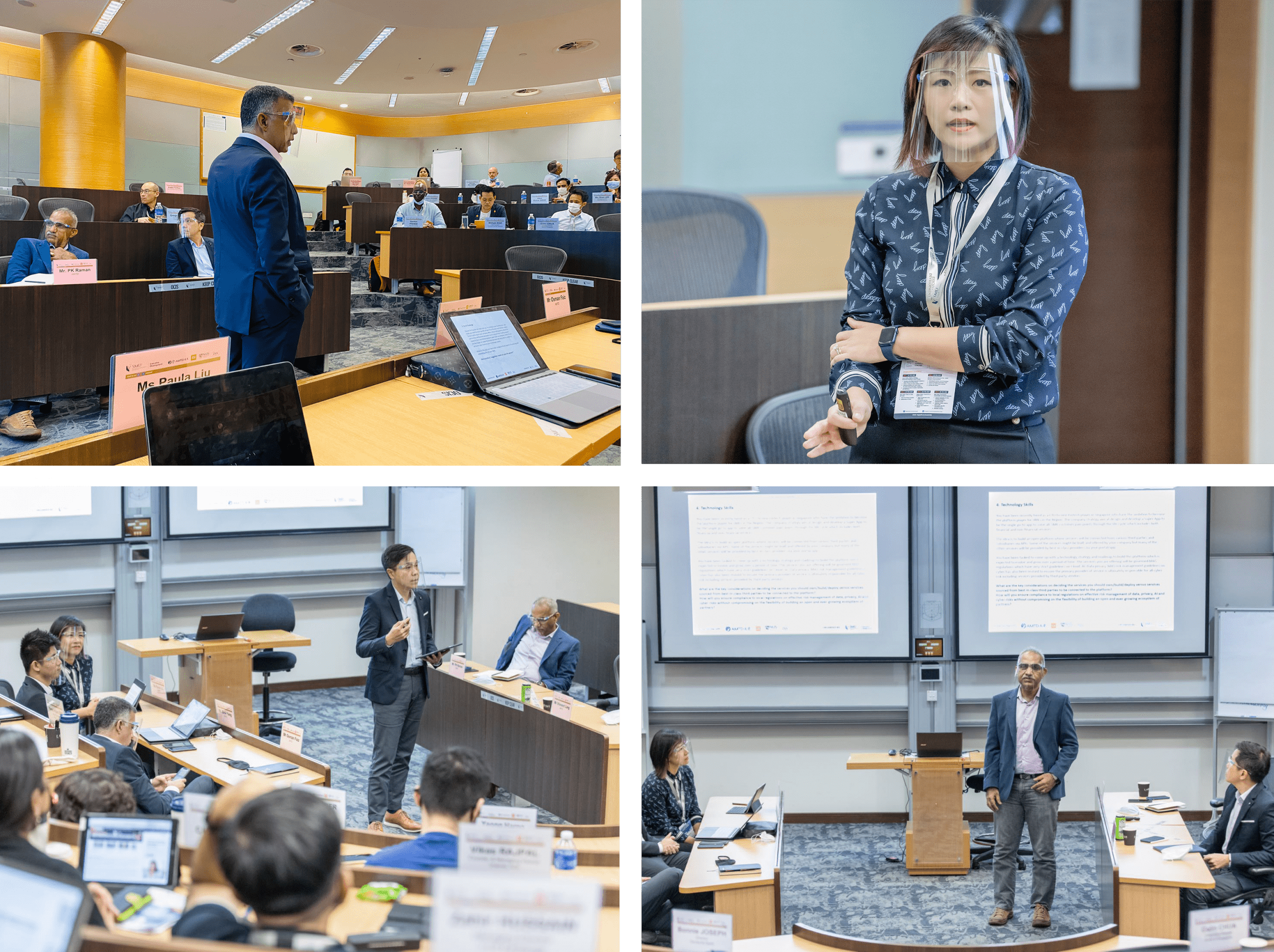 AMTD Digital leadership team (Osman – top left; Paula – top right; Vincent – bottom left; PK Raman – bottom right) led and hosted the case study discussion during the "Challenge-in-Motion" segment of the 2nd AXSI Digital Finance Leadership Programme
The two successful runs of the AXSI Programme demonstrate the strengths of its four partners – network effect of AMTD SpiderNet's enormous resource pool; Xiaomi's deep experience in global digital financial services, consumer IoT and innovations; SMU's expertise in digital finance, law and governance and track record of delivering leadership programmes; as well as NUS-ISS' expertise in cybersecurity and artificial intelligence.
The AXSI Programme will have two runs each year. The 1st run of AXSI Programme for 2021 was completed as of 26th Feb with the 2nd run scheduled to start welcome its cohort of participants in July this year. Each run will have up to 25 participants. Faced with new opportunities and emerging challenges, senior executives, entrepreneurs and policymakers are encouraged to apply to join the programme and learn the know-how to adapt to the digital disruption and ride the digital wave.