August 24, AMTD Group held a virtual group townhall, attended by over 200 employees from AMTD International (NYSE: HKIB/SGX: HKB), AMTD Digital, AMTD Education, and AMTD Assets – the four core business units under AMTD Group, as well as its FinTech subsidiaries under AMTD Digital including PolicyPal, a leading InsurTech company in Southeast Asia, CapBridge Financial, Singapore's first private equity exchange and integrated private market ecosystem platform, and FOMO Pay, a leading one-stop QR code payment solution and digital banking solution provider in Southeast Asia.
Mr. Calvin Choi, Chairman and CEO of AMTD Group, attended the meeting and delivered a speech to all employees. Dr. Feridun Hamdullaphur, AMTD Group and AMTD International Board Director, President of the University of Waterloo; Prof. Annie Koh, AMTD Digital Board Director, Vice President of Business Development, V3 Group Professor of family entrepreneurship, Professor of finance (practice) at the Singapore Management University, member of the World Economic Forum Global Future Council on New Education and Work Agenda, Chairlady of Finance and Investment Committee of GovTech Singapore Board, and Chairlady of Asian Bond Fund 2 supervisory committee of the Monetary Authority of Singapore (MAS); and Mr. Neil Parekh, AMTD Digital Board Director, Partner and Head of Asia, Australia and New Zealand at Tikehau Capital (EPA: TKO), a member of the Governing Council of Singapore Institute of Director and former general manager of Asia at National Australia Bank (ASX: NAB) also attended the townhall and offered their remarks to all staff.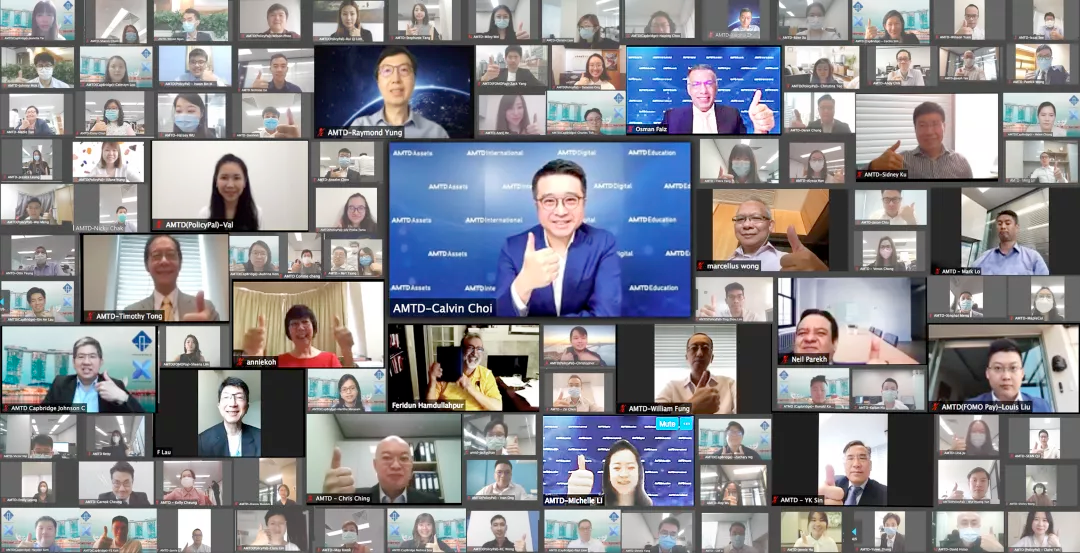 Mr. Choi provided a sum up and accounted for the achievements of AMTD's core business units year to date, as well as the various key milestones established in AMTD's internationalization strategy. He requested all employees to continue the momentum, fully leverage the power of its unique AMTD SpiderNet ecosystem, step up higher levels of connectivity and foster closer cooperation among core clients, business partners, and stakeholders.
Supported by strong track record and solid fundamentals, AMTD Group's overall development has been widely recognized by the international capital markets, as reflected by the strong secondary performances of outstanding securities: AMTD Group's US$150mm senior bonds and AMTD International's US$200mm perpetual securities are currently quoted at $108.2 and $104.3, which outperformed the Markit iBoxx USD ex Japan index by 230 and 200 basis point respectively, and AMTD International's S$50mm perpetual securities are quoted at $102.8, which outperformed the Markit iBoxx SGD bond index by 80 basis point.

The secondary market performance of AMTD Group USD bond, AMTD International USD perpetual bond, and AMTD Group SGD perpetual bond
AMTD Group is a diversified financial services focused conglomerate, with core businesses in investment banking, asset management, digital financial solutions; and non-financial services including education and real estate areas.
In recent years, apart from AMTD International, the investment banking platform that is already dual-listed on New York Stock Exchange and Singapore Exchange, AMTD has also expanded its one-stop digital connected solutions platform – AMTD Digital, along with the building out of AMTD Education and AMTD Assets, fully implementing its unique and innovative "IDEA" strategy.